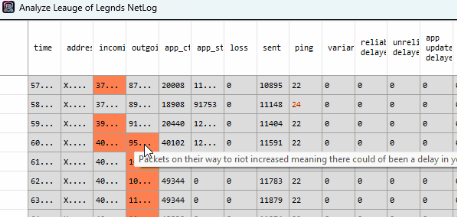 Analyzing League of Legends Network Issues
The world of online gaming can be frustrating when network issues hinder your gameplay. League of Legends (LoL) players understand this struggle all too well. However, there are solutions that help analyze network issues specific to LoL.

With the discontinuation of lotsoflag.com's tool, LoL players are left without a reliable means to analyze network issues. Recognizing this gap, a small open-source solution is here to fill the void.

https://github.com/Terrabet/LeagueNetlogReader/releases/tag/release

The LoL Log File Analyzer is a useful tool that examines netlog files generated by League of Legends. By analyzing these log files, players gain insights into network-related parameters, enabling them to diagnose and troubleshoot connectivity issues effectively.
To benefit from this invaluable log file analysis tool, interested players can download the latest release from the official GitHub repository https://github.com/Terrabet/LeagueNetlogReader.
All you have to do to analyze your League of Legends connection is drop your netlog file in to the reader.
Then you will find a detailed breakdown of important network metrics such as ping, packet loss, incoming and outgoing packet changes, jitter, and reconnect events. The tool highlights any abnormal values and provides tooltips to explain potential network issues.

Example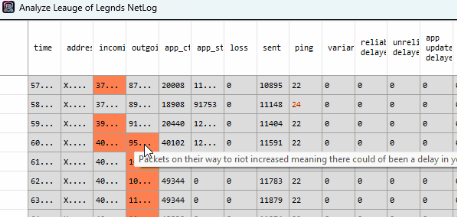 This open-source project welcomes contributions and improvements from the community, ensuring that it remains a valuable resource for LoL players. Whether you're a developer, a network enthusiast, or a passionate gamer, your input can make a difference in enhancing the functionality and accuracy of the LoL Log File Analyzer.
Start analyzing your League of Legends network issues today with this user-friendly and efficient log file analyzer. Take control of your gaming experience and enjoy a smoother and more reliable connection.
Download the latest release of the LoL Log File Analyzer from the official GitHub repository and take your LoL gameplay to the next level.
Contribution and improvements are always welcome, so join the community and help make the LoL Log File Analyzer even better!