Apple iTouch Safari browser review
So I got the new Apple iTouch for Christmas and over the next few days I will be posting reviews on different aspects that the newest Apple release has to offer.
This is one great bit of hardware and by far beats any other ipod or mp3 player hands down.
The features of the i Touch are both user friendly and very well presented like most Apple software.
I am going to start my first post with the i Touch Internet browser called Safari which some mac lovers should already be aware of:


Safari connects to the internet using wi-fi connectivity which means you will need to gain access to an internet router to browse the net. Sometimes trying to find an internet connection for the i Touch can be some what annoying, especially when the router is password protected so you cant connect.
Once the itouch has connected to a router (internet connection), it will remember the password for that router so you don't have to keep typing it in which is a nice touch and I thank Apple for this because it does save time.
Safari is very well presented and works exactly the same as it does on an Apple Mac or even now a PC. Yes you heard me correctly you can now get Safari on your PC.
If you would like to give safari a try on your PC then just go to the official Apple website and download it for yourself.
Safari is the fastest Internet browser you can get and you can see why Apple would want it on the new i Touch, not to mention its their own Internet browser.
Websites on the i Touch look exactly as they would on your home PC or Apple Mac and it truly is a stepping stone for more advanced future products which I am sure Apple will bring out before anyone else!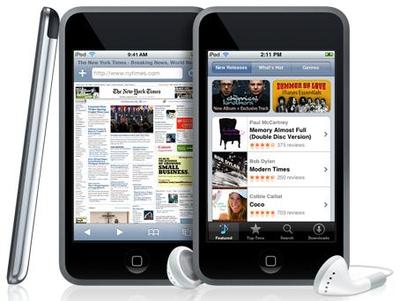 The bottom line is that safari on the i touch is very well presented and easy to use whether you are bidding on eBay or just checking out the latest sports on BBC.
If you are a gadget and internet lover then the iTouch is definitely for you and I would recommend it hands down over any of its competitors.
Please check back tomorrow for another Apple iTouch review (",)